Advanced Case Planning
Family Office Services provides advanced case planning services to help you develop big cases and effectively collaborate with other advisers.
We offer software, a proven process, and first-class deliverables.
When working with your largest clients, conventional off the shelf software solutions are inadequate. They rarely, if ever, have the power and flexibility to illustrate and document your recommendations in a way that fully supports the key concepts with the nuance and flair you need to communicate that you report is truly unique and that you are in full command.
Obstacles
Use multiple software packages
Standalone Excel spreadsheets
Special PowerPoint slides
Supplemental pages
Copies of articles or other resource material
The result is a client presentation that may appear unprofessional. Changes can be a nightmare due to the pernicious "ripple effect" that requires one to carefully inspect each and every page to see if and how one little change of input requires many changes downstream. This process is tedious, time consuming and error prone.
To overcome these obstacles, we developed our proprietary CASE planning software to prepare a Family Wealth Blueprint®. The CASE software enables us to develop comprehensive client reports with fully integrated cash flows, income tax projections, net worth projections, estate tax estimation and estate distributions.
All of this content is presented with world-class graphics, charts, explanations and supporting documentation.

Every conceivable strategy or variation thereof can be fully customized for the client to learn more about each item available to you.
Family Wealth Blueprint®
Summary Blueprint
Tactical Plans
Financial Check up
Value Proposition Letter
learn more
View webinar schedule
View Training Library
Download brochure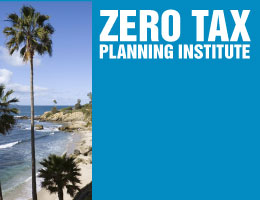 The Zero Tax Planning Institute equips advisers to replicate the success that we have in our retail practice. We show you how to develop successful seminars, attract attendees, schedule meetings with prospects, and engage new clients. We also show you how to charge fees, prepare client deliverables, implement plans, and fund trusts with investments and insurance.