Turn-key System
The Zero Tax Planning System™ from Family Office Services provides the marketing, training, software and case planning support you need to immediately begin engaging high net worth clients.
Marketing. Our marketing materials and support assist you to immediately engage new clients and forge new alliances with centers of influence. Our online illustration system ("vBlueprint") helps you to provide important education materials designed to highlight the benefits of many financial and estate planning tools and motivate the client to engage you to customize a plan.
Training. Our workshops give you direct access to the experts and connection to a community of like-minded professionals. Our webinars continue to expand your knowledge in a time and cost effective way. Our library of over 100 recorded videos gives you just in time information on demand.
Case Planning. We are here to help you when you open a case that requires significant back office resources and expertise.
Administration. Our case tracking system ("vTasker") helps you to keep track of the many implementation steps and keep the case moving forward with a minimum of delays.
learn more
View webinar schedule
View Training Library
Download brochure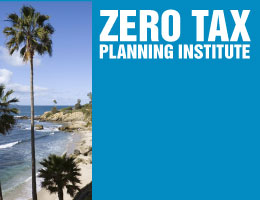 The Zero Tax Planning Institute equips advisers to replicate the success that we have in our retail practice. We show you how to develop successful seminars, attract attendees, schedule meetings with prospects, and engage new clients. We also show you how to charge fees, prepare client deliverables, implement plans, and fund trusts with investments and insurance.
Zero Tax Planning is a program of Family Office Services, Inc.
Contact Us
| 695 Town Center, Suite 700 | Costa Mesa, CA 92626
Phone: 800-447-7090 | Fax: 866-447-7090 | © Tim Voorhees, JD, MBA, 1996-2016
---
Zero Tax Planning is a simple but powerful concept that integrates well-established non-charitable tools (such as insurance, LLCs, low-interest notes, and irrevocable trusts) with common charitable tools (such as gift annuities, charitable remainder trusts, charitable lead trusts, private foundations, pooled income funds, etc.) to help clients reduce taxes while increasing potential benefits for family and favorite charities. Most clients can zero-out estate, gift and GST taxes through the appropriate leveraging of standard estate and gift tax exemptions. Other charitable and business income tax strategies can be used to zero-out taxes on capital gains income and/or the portion of their income not needed for lifestyle expenses. It is not difficult to zero-out taxes simply by giving wealth to charity. Amazing opportunities arise, however, when the tax benefits of statutory charitable tools are combined with the tax benefits of non-charitable instruments described in the Internal Revenue Code. Family Office Law LLP ("FOL") attorneys and their affiliates do not recommend strategies that lack substantial legal authority.