Membership
We offer several membership programs designed to meet the needs of advisers at different stages of development
When you sign up for Virtual Adviser membership at $250/month for 12 months, you also receive 4 BCA
webinars (a $2000 value). See www.MatsenVoorhese.com/4webinars
Family Office Services provides a subset of the 40 family office resources to a select group of attorneys, CPAs, and wealth managers who join our network as Virtual Advisers. Affiliated advisers can use proven web-based resources to engage more clients and implement legal plans more successfully. Likewise, investment advisers can use our Registered Investment Advisory resources to develop financial plans that display how insurance and investment solutions complement legal solutions. Advisers can review resources at www.VirtualAdviserGrid.com and see how they can help clients appreciate the tax-savings benefits related to integrating legal and investment/insurance solutions.
Schedule a "Big Case Analyzer" Session

Cost: $500
Benefits:
Experienced planners will review Balance Sheet, Income Tax, Goals, and other Documents ("BIG DOCS") to spot opportunities
Planners will equip the adviser to show the prospective client how planning costs are a small portion of the benefits
learn more
View webinar schedule
View Training Library
Download brochure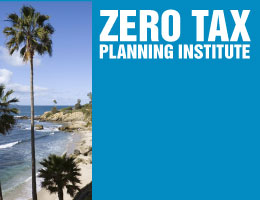 The Zero Tax Planning Institute equips advisers to replicate the success that we have in our retail practice. We show you how to develop successful seminars, attract attendees, schedule meetings with prospects, and engage new clients. We also show you how to charge fees, prepare client deliverables, implement plans, and fund trusts with investments and insurance.
Zero Tax Planning is a program of Family Office Services, Inc.
Contact Us
| 695 Town Center, Suite 700 | Costa Mesa, CA 92626
Phone: 800-447-7090 | Fax: 866-447-7090 | © Tim Voorhees, JD, MBA, 1996-2016
---
Zero Tax Planning is a simple but powerful concept that integrates well-established non-charitable tools (such as insurance, LLCs, low-interest notes, and irrevocable trusts) with common charitable tools (such as gift annuities, charitable remainder trusts, charitable lead trusts, private foundations, pooled income funds, etc.) to help clients reduce taxes while increasing potential benefits for family and favorite charities. Most clients can zero-out estate, gift and GST taxes through the appropriate leveraging of standard estate and gift tax exemptions. Other charitable and business income tax strategies can be used to zero-out taxes on capital gains income and/or the portion of their income not needed for lifestyle expenses. It is not difficult to zero-out taxes simply by giving wealth to charity. Amazing opportunities arise, however, when the tax benefits of statutory charitable tools are combined with the tax benefits of non-charitable instruments described in the Internal Revenue Code. Family Office Law LLP ("FOL") attorneys and their affiliates do not recommend strategies that lack substantial legal authority.